Bin Rentals
An MTC 14 cubic yard bin is easy to fill from its 3 foot high sides and barn doors that open up for you to walk in with a wheelbarrow or dolly.
Our single axel trucks and style of bins leave no damage to your driveway surface.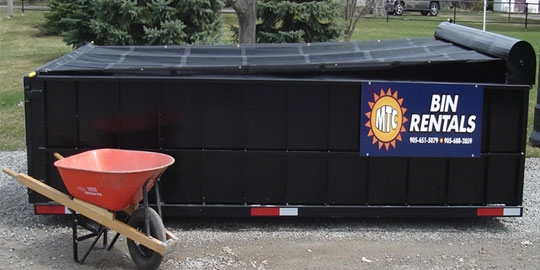 Common Uses for an MTC bin:

Seasonal cleanup
General debris
Roofing materials
Siding
Decking
Renovation debris
Construction debris
Business dry waste
Tree and brush debris
Excess soil and gravel

Special rates for clean fill or concrete!

We rent wheelbarrows!

Pricing:

"The Weekender"
Friday 5pm to Monday 8am
Includes 1 tonne disposal
$249
~
"The Big Deal"
Any 7 Day period
$349
Includes 2 tonne disposal
~
"The Easy Does It"
Any 14 Day period
$439
Includes 2 tonne disposal
~
HST extra
Additional tonnage is $107 per tonne
Hazardous materials are prohibited.